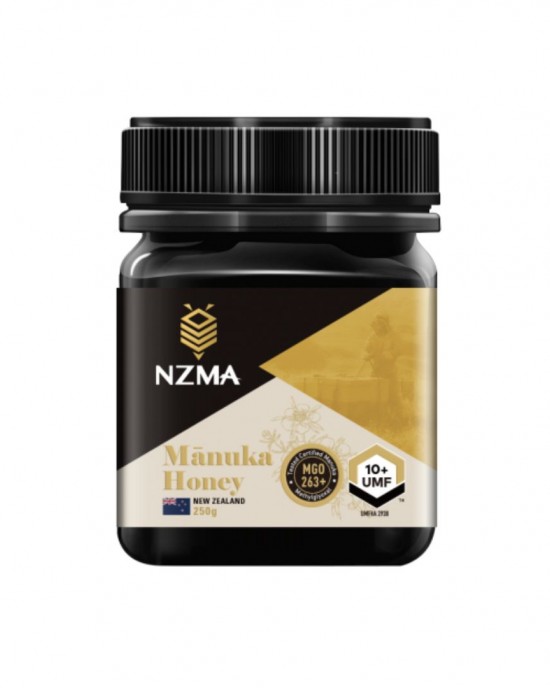 MGO™ 263+ UMF 10+ Manuka Honey Blend 250g
MGO™ 263+ UMF 10+ Manuka honey 250g
Manuka honey is favoured for its exceptional antibacterial properties, unlike other types of honey.
MGO™ 263+ Manuka honey is a premium, 100% honey from bees, with exceptional properties not found in other types of honey. It is derived from the flower of a precious shrub called Manuka (Leptospermum scoparium), which grows in New Zealand. The manuka flower is full of nectar, which is well known for its antibacterial nature, which is beneficial to health. In addition, its flowers only open once a year for a few weeks, so its production is strictly limited and therefore unique.

What makes Manuka honey stand out among honeys is its high content of a natural substance called methylglyoxal (MGO). This substance is responsible for the extraordinary and complex properties of Manuka honey. The longer it takes to produce honey, the higher the MGO level, and thus the higher the quality of certain honeys. Manuka honey from Manuka Health is rigorously tested annually to maintain the highest quality and purest form. The company covers the entire production process, from bees to honey production.
MGO™ 263+ honey guarantees that 1 kg of honey contains 263 mg of MGO. The honey is typically slightly bitter, has an aromatic aroma and a soft and creamy texture. It is high in pollen and other beneficial substances. It is ideal as a preventative during the flu season, but can also be used as an alternative to chemically produced sweeteners.

Benefits of MGO™ 263+ Manuka honey
-100% premium honey from New Zealand

-High content of natural methyl glyoxal (MGO)

-pollens and other active ingredients

-unique due to its complex antibacterial nature

-lightly bitter taste, soft texture and aromatic fragrance

-ideal for preventing flu and colds

-an excellent alternative to chemical sweeteners

Health problems where it is recommended to include manuka honey as part of the therapy:

-RSA, H. Pylori and other infections affecting the digestive tract

-For gastric ulcers and intestinal ulcers

-for the regeneration of wounds and burns

-For sore throats, winter illnesses

-To fight viruses

-Cystic fibrosis

-IBS

-Heartburn, reflux

-Acne

Ingredients
100% MGO™ 263+ Manuka honey from New Zealand

Dosage
Consume 2-3 spoonfuls of honey in the morning on an empty stomach, or 1 spoonful 2-3 times a day, half an hour before meals. Honey can also be used as an additive in foods and drinks.

Suggestions for use
-Alone, with a spoon from the jar

-Add to lemonade with lemon

-Stirred into yoghurt or porridge

-As a sauce, Add to savoury dishes

-Topically, directly on the wound

Stock:

In Stock

Model:

MGO™ 263+ UMF 10+ Manuka méz 250g

Weight:

0.00

SKU:

WH-MANUKA-MEZ-263
Products Sold: 0
Product Views: 691