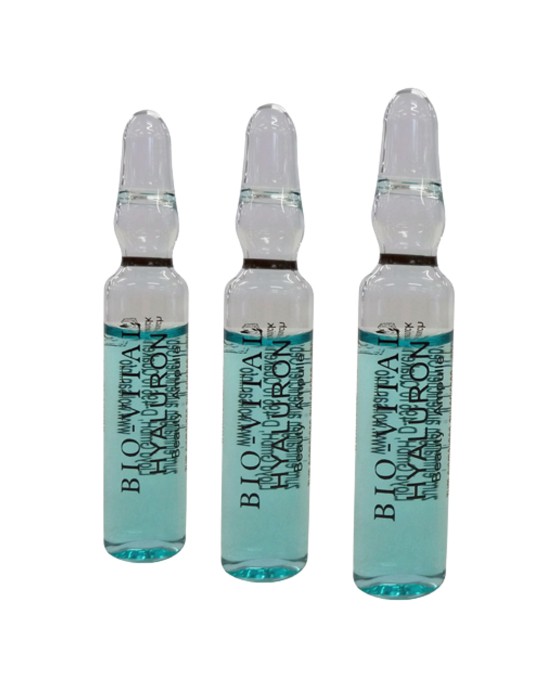 Hyaluron ampoules 15 pcs.
Hyaluronic acid is an essential component of various anti-wrinkle and topical cosmetics. Hyaluronic acid is naturally found in various tissues of the body: skin, joint fluids and connective tissues. As the age progresses, the skin's hyaluronic acid content may decrease gradually.

Hyaluronic acid can attract and retain large amounts of water, giving the skin plenty of flexibility and flexibility. As an active ingredient in cosmetic products, its excellent water retention capability can support skin filling and thus help to reduce existing wrinkles.

Those who only want to give pure hyaluronic acid to their skin are worth submitting to a hyaluronic acid ampoule cure that can be tested at home and in professional cosmetics.

Use:

The ampoule can be delivered to the skin by the beautician's ultrasound, but it can be added to the massage cream even by hand massage. The ampoule dispensing spray can greatly facilitate the work of the beautician, helping you to distribute the contents of the ampoule on the skin and provide a more hygienic use.
If you use the ampoule at home, simply massage the contents of the ampoule onto the cleansed skin and apply the cure for 10-14 days.
Important informations:
Place of origin: EU
If you are dissatisfied and the item were purchased within 15 days, we will issue you the full refund.
If your ordered product fails, contact us with confidence, because we have a full-service background.
Delivery time: 3-5 days (if the ordered product is not in stock, our colleagues will call/text you and tell you the delivery time).
If you have any problems with the product, please contact us via e-mail at the following: info@wagnerhome.hu .
Stock:

In Stock

Model:

Hyaluron ampulla 15 db-os

Weight:

0.00

SKU:

WH-HYALURON-AMPULLA
Products Sold: 0
Product Views: 250