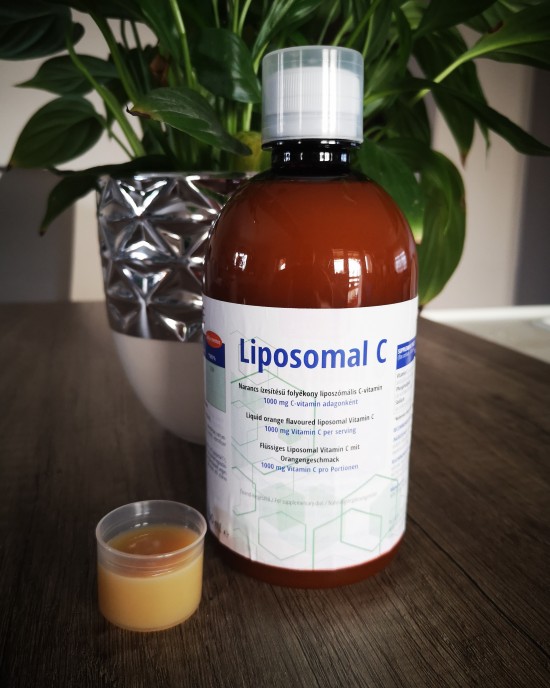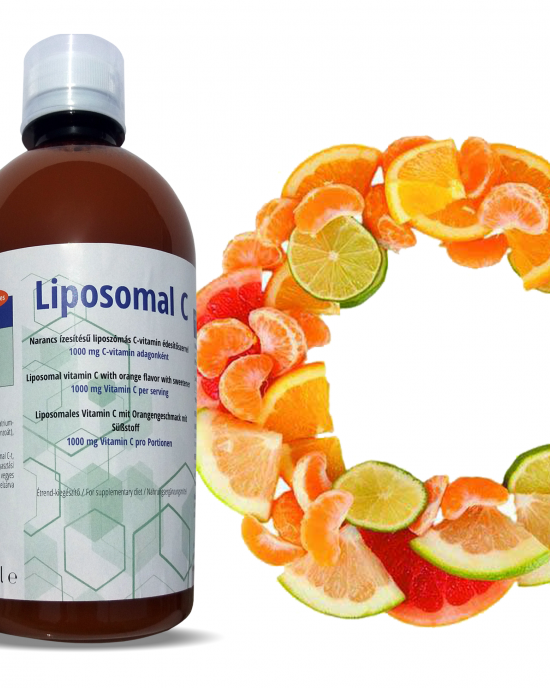 Orange flavored liquid liposomal vitamin C
If you have Vitamin C, then Liposomal C!
Conventional high doses of Vitamin C only take about a minute. 20% is recovered, 80% is excreted in the urine. On the one hand, it can be degraded to vitamin C oxalate, which is uneconomic, and on the other hand, which can promote the formation of kidney stones, as the vast majority of kidney stones consist of calcium oxalate.
Liposmal C, on the other hand, is 95% utilized, so you don't have to worry about these dangers. It is completely absorbed from the small intestine, and is then released into the bloodstream and its dissolved active substance is delivered directly to the cells. The structure of our cell membrane is similar to that of the liposomal vitamin C phospholipid, so this phospholipid envelope easily delivers the dissolved vitamin C to our cells.
Liposomal C is a liquid liposomal vitamin C in its consistency. Liposomal C simulates the body better than dry vitamin C tablets, since vitamin C is also dissolved in the body and the phospholipid layer of the cell membrane is in the aqueous phase and not dried.
Liposomal C is an orange liquid liquid vitamin C
- contains no soya,
- made from sunflower lecithin,
- it is based on distilled water free of impurities,
- consists of stable, small unilamellar liposomes,
- contains a large family dose of 100 X 1000 mg vitamin C in 500 ml.
Benefits of Liposomal Vitamin C
By now everyone has probably heard a lot about the benefits and importance of vitamin C. But why is this vitamin so important to our body? Vitamin C is essential for the balanced functioning of our immune system. Vitamin C is also needed for our nervous system to function normally. Vitamin C also protects against cancers, cardiovascular problems, and the risk of developing an allergy is reduced if enough vitamin C is present in our body. It also plays a role in protecting cells from oxidative stress but has a major role in metabolism and in maintaining the normal state of the bones, teeth, and gums. We need vitamin C to absorb iron, to fight fatigue, to combat stress and colds.
However, vitamin C can only perform its function if it is fully absorbed by the body. However, there are many things that can prevent or prevent this. However, our body is not able to store this vitamin for a long time, the excess, that is, the amount of vitamin C that could not be utilized, is eliminated from the body along with urine. So in vain do we think that every time we inject a higher dose of vitamin C into the body, if some of it is unable to be utilized, we are just waiting for the miracle, or more precisely the positive effect of vitamin C.
However, with liposomal vitamin C, we cannot put ourselves in a position where some of the vitamin cannot be absorbed or our body is unable to use it to its advantage. The essence of the vitamin produced by liposomal technology is that they fill liposomal spheres with valuable active ingredients, in this case vitamin C. And this sphere is surrounded by a double layer of phospholipid, which has a dual function. On the one hand, it provides protection for the active ingredient and on the other hand helps to get the active ingredient to the right place within the body, so that it really has a positive effect where it is really needed. A further advantage is that you do not have to take a higher dose of these vitamins at the same time, because the active ingredient is actually taken where it is needed, and even the digestive system is not burdened with a lower dose. In fact, if you consume more non-liposomal vitamin C, you may even have diarrhea or heartburn. Not to mention that it is useless to take a higher dose of this vitamin if eighty percent are eliminated without the body being able to utilize a single gram of it. Therefore, it does not matter what kind of vitamin C we supply to our body.
ATTENTION: Store in a refrigerator for 2-3 hours before opening to prevent the product from drying out due to pressure changes! After opening, store in a refrigerator.

It is advisable to slowly and carefully unlock the product for the first time!
Important informations:
Place of origin: own product
We provide a one-year manufacturer's and replacement warranty from the date of purchase for this product.
If you are dissatisfied and the item were purchased within 15 days, we will issue you the full refund.
If your ordered product fails, contact us with confidence, because we have a full-service background.
Delivery time: 1-3 days (if the ordered product is not in stock, our colleagues will call/text you and tell you the delivery time).
If you have any problems with the product, please contact us via e-mail at the following: info@wagnerhome.hu .
Stock:

Out Of Stock

Model:

Narancs ízesítésű folyékony liposzómális C-vitamin

Weight:

0.50kg

SKU:

WH-LIPOSZOMÁLIS-C-VITAMIN
Products Sold: 5
Product Views: 3172