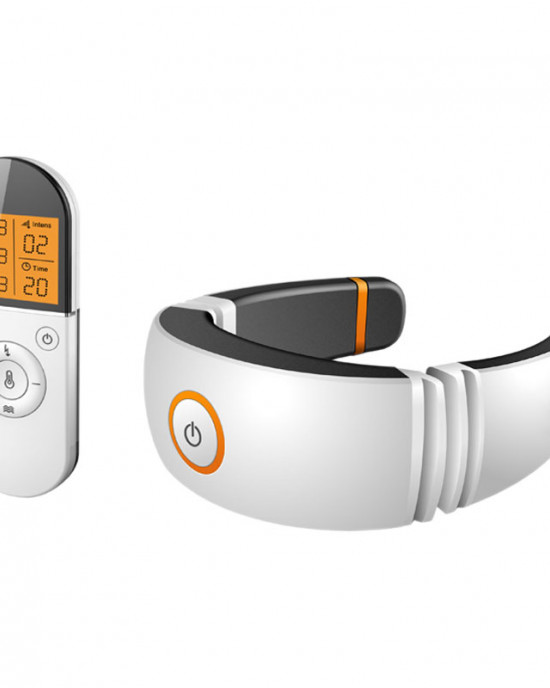 Neck massaging with TENS electrodes
The intelligent neck massager, which has a flexible ring design for human cervical physiology, can form a complex energy field that can reach directly to the deep tissues and bone marrow, either through multi-channel synchronous massage, low-frequency pulse, magnetic action, thermal moxibustion, ringing pulling and vibrating massage. During operation, the user can maintain a proper physical posture, providing a scientific platform for the proper care of cervical diseases, with which you can enjoy cozy treatment!
Area of ​​use
It can help boost local blood circulation, relieve local muscles, and relieve fatigue, so it can be used for neck pain, shoulder and arm numbness, and headache and dizziness.
Product Features
- Excellent looking and scientific ergonomic design that matches the human neck curve;
- By adopting the most advanced 3D intelligent assembly technology, you can easily adjust the electrodes based on the cervical curve, making it easier to use;
- Synchronous action in five modes of thermal moxibulation, low frequency electrical pulse, magnetic effect, ring traction and vibration massage for efficient composite energy production;
- Thermal moxibusion can heat and activate the meridians, disperse moisture and disperse cold, resulting in two high and low temperature levels. You can choose the level according to your needs and environment;
- Two automatically combined pulse modes and four handheld electrical pulses that meet different needs and can be used on multiple people;
- Six ways to vibrate massage;
- Many built-in magnets for microcirculation;
- Has a remote control and LCD menu and backlit display for easy use.
- Easy to operate with remote control and backlit LCD screen
Important informations:
Place of origin: own product
We provide a one-year manufacturer's and replacement warranty from the date of purchase for this product.
If you are dissatisfied and the item were purchased within 15 days, we will issue you the full refund.
If your ordered product fails, contact us with confidence, because we have a full-service background.
Delivery time: 1-3 days (if the ordered product is not in stock, our colleagues will call/text you and tell you the delivery time).
If you have any problems with the product, please contact us via e-mail at the following: info@wagnerhome.hu .
Free shipping
Amennyiben ezt a terméket vásárolod, ingyenes szállítással juthatsz hozzá!
Stock:

In Stock

Model:

Nyakmasszírozó TENS elektródákkal

Weight:

0.50kg

SKU:

WH-NYAKMASSZIROZO-TENS
Products Sold: 12
Product Views: 8737