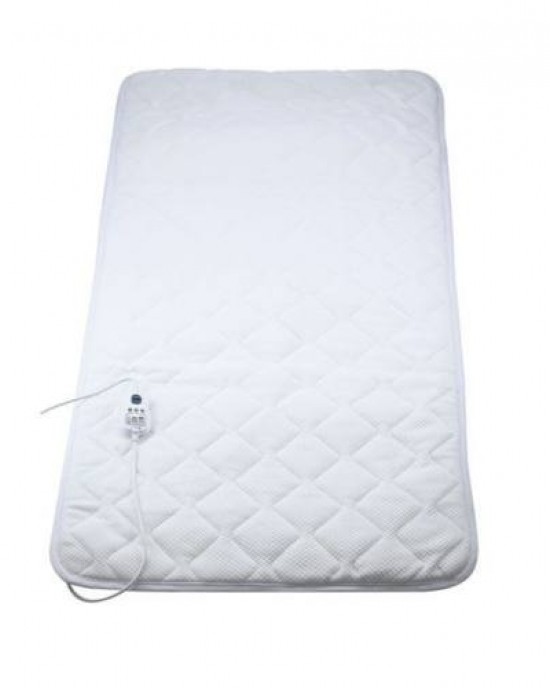 Infrared bed mattress
Its beneficial effects can be effective especially in musculoskeletal problems.
Indications:
- infrared rays, which can penetrate deep into tissues, stimulate metabolism and blood circulation

- relaxation of tissues may reduce or eliminate pain
Treatment areas:
- muscle and joint pain
- stiff joints

- bruises, sprains, sprains

- chronic back pain

- chronic rheumatic diseases

- soft tissue rheumatism

- functional circulatory disorders
Properties:
- removable LED manual control panel

- 9 levels of heating

- multi-zone heating control (Upper body and foot)
- timer: 1, 5, 8, 12 hours
- protection against overheating
- non-flammable filler for the highest level of safety

- material:

- upper part: air soft material for extra comfort
- lower part: white Teflon-coated moisture resistant material

- multilayer filler that provides comfort for many years

- treatment: hand wash

- size: 80x190 cm

- voltage: 220-240 V / 50 Hz

- power: 60 W

Important informations:

Place of origin: EU
We provide a one-year manufacturer's and replacement warranty from the date of purchase for this product.
If you are dissatisfied and the item were purchased within 15 days, we will issue you the full refund.
If your ordered product fails, contact us with confidence, because we have a full-service background.
Delivery time: 1-3 days (if the ordered product is not in stock, our colleagues will call/text you and tell you the delivery time).
If you have any problems with the product, please contact us via e-mail at the following: info@wagnerhome.hu .
Stock:

In Stock

Model:

Infraterápiás ágybetét

Weight:

0.00kg

SKU:

WH-INFRATERAPIAS-AGYBETET
Products Sold: 0
Product Views: 1289