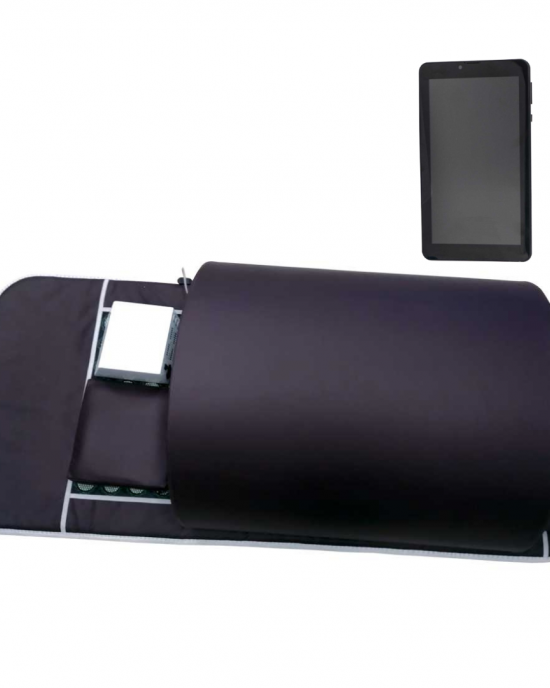 Infra dome
The infrared sauna dome uses infrared radiation technology to reach deep, penetrating heat that can release the body. The dome can provide effective infrared radiation to the body to help with a wide range of therapeutic benefits, e.g.
- weight loss

- detoxification,

- reduction of cellulite

- pain relief

- skin rejuvenation

- intense rest and much more

It is a safe, effective and easy way to get rid of excess weight and beautify your skin.
The second main principle is the negative ion. Energy stones such as jade stones, tourmaline stone and germanium stones can emit far-infrared radiation and at the same time release negative ions that can stimulate cell metabolism, boost the immune system and stimulate blood circulation.

The infrared dome has 90 tourmaline stones and 90 germanium stones, and 144 jade stones on the heating mattress.

Jade stone contains more than 30 types of trace elements that can be useful for the human body, such as selenium, zinc, nickel, copper, cobalt-manganese, and so on. The cells of the human body can be revived from it.

Tourmaline and germanium stones emit infrared radiation at wavelengths of 4 to 15 microns. It can help relieve stress, increase alertness, strengthen blood circulation and the immune system.

Benefits and features:
- weight loss and increased metabolism

- may have a cellulite-removing effect

- stress and fatigue reduction

- can relieve joint pain and stiffness

- can beautify the skin

- can improve and strengthen the immune system

- reduction of muscle pain

- detoxification

- cardiovascular conditioning without joint stress

- reduction of high blood pressure

Properties:

- heating zones: 3 zones (individually adjustable)

- power: 1200 W

- voltage: 100-240 V / 50-60 Hz

- timing: 5-60 minutes

- temperature setting: 25-90 degrees for the dome, 25-70 degrees Celsius for the carpet

- blanket size: 180x75x45 cm

- heating element: carbon fiber heating wire

- outer material: PU leather

- inner material: velvet material, energy stones
Important informations:
Place of origin: EU
We provide a three-year manufacturer's and replacement warranty from the date of purchase for this product.

If you are dissatisfied and the item were purchased within 15 days, we will issue you the full refund.

If your ordered product fails, contact us with confidence, because we have a full-service background.

Delivery time: 1-3 days (if the ordered product is not in stock, our colleagues will call/text you and tell you the delivery time).

If you have any problems with the product, please contact us via e-mail at the following: info@wagnerhome.hu .

Free shipping
Amennyiben ezt a terméket vásárolod, ingyenes szállítással juthatsz hozzá!
Stock:

In Stock

Model:

I&F szauna tablettel

Weight:

10.00kg

SKU:

WH-INFRA-SZAUNA
Products Sold: 0
Product Views: 2011