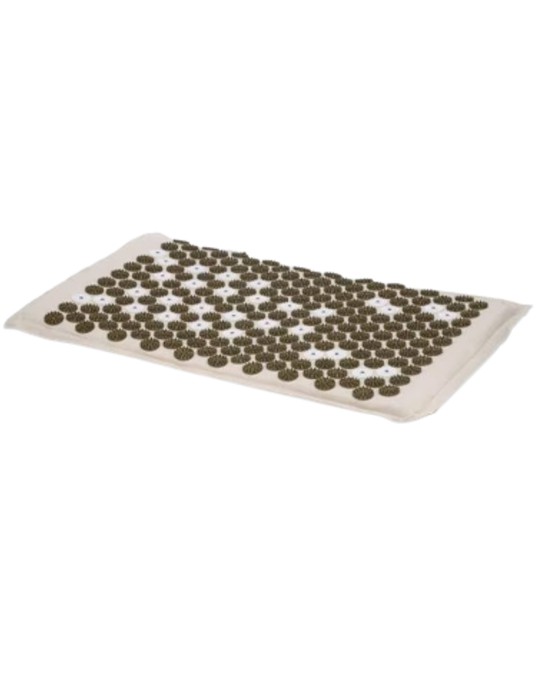 Acupressure mattress set
An acupressure mat can help you achieve deep relaxation and stimulate acupressure points.
With up to 8613 pressure points per flower-shaped plastic disc, you can stimulate acupressure points.

The set consists of
an acupressure mat (75x44 cm)




one acupressure pillow (40x30 cm)

one pressure pad

two towels (76x45 cm, 41x31 cm)

one carrier bag
The mat offers a large lying surface with 210 needle cushions, each with 33 pressure points. 30 of the 210 pincushions have a built-in magnet. The acupressure cushion has 51 pincushions, each with 33 pressure points. Of the 51 pincushions, 11 have a built-in magnet.
You can increase or decrease the pressure with the pressure pads and two towels, depending on your individual needs.

The adjustable size of the cushion and mattress fits all chairs perfectly.

Effects:
- After 10-15 minutes of use, peptide hormones can flow throughout the body

- 20-30 minutes of use can significantly reduce stress and pain

- After 30-40 minutes of use, pain can be greatly reduced and the ability to act can be multiplied

Benefits:
- can help to achieve deep relaxation

- can increase the body's oxygen uptake

- may improve digestion and sleep

- relieve rheumatic complaints, neck and back inflammation

- can improve quality of life

- increase energy levels

- reduce stress

- stimulate blood circulation and vitalise the body

Contraindications:
- do not use the mat in areas where the skin is swollen or irritated, or in case of burns

- do not use if you have sensitive skin

- do not use if you have a blood coagulation disorder or are taking blood thinners

- do not use during pregnancy

- do not use on the front of the neck

- children, disabled persons or persons in need of care should only use under adult supervision

- always place the mattress in a stable position

- avoid sudden movements when lying on the mattress

Material:
- the cover is made of pure cotton.

- the filling of the carpet is made of coconut fibre and the filling of the pillow is made of buckwheat hull

- the spikes are made of plastic

- is not washable, it can only be cleaned with a soapy, wet cloth

Colour:
- beige

Important informations:
Place of origin: EU
We provide a one-year manufacturer's and replacement warranty from the date of purchase for this product.
If you are dissatisfied and the item were purchased within 15 days, we will issue you the full refund.
If your ordered product fails, contact us with confidence, because we have a full-service background.
Delivery time: 2-4 days (if the ordered product is not in stock, our colleagues will call/text you and tell you the delivery time).
If you have any problems with the product, please contact us via e-mail at the following: info@wagnerhome.hu .
Stock:

In Stock

Model:

Akupresszúrás matrac szett

Weight:

1.00

SKU:

WH-AKUPRESSZURAS-MATRAC-SZETT
Products Sold: 3
Product Views: 430